Does your little one love animals? Twin Sisters Digital Media offers an enormous selection of eBooks to teach children about animals, nature, and wildlife. Today, we want to talk about just five of the many choices you have for your budding animal lover!
We've found that most children absolutely love animals. After all, what's not to love? Animals come in all shapes and sizes and each have awesome fun facts about them. Whether your child likes furry critters, reptiles, wildlife, sealife, or anything in between, Twin Sisters Digital Media has eBooks they'll love! We have too many titles to go through in one blog, so we picked five of our favorites to discuss! Let's get started.
The Animal Alphabet
The Animal Alphabet is perfect for very early readers who are trying to learn their letters. This is a follow-along story/song combination that associates each letter of the alphabet with an animal whose name begins with that letter. The first round, the song is sung slowly and shows illustrations of each animal. The second time through, the tempo picks up and pre-readers will hear each letter and look at a silhouette of each animal for added fun. This is an excellent eBook to teach your early reader about letters while keeping them actively involved in the process. They'll get to see a wide range of animals from domestic to wild. Maybe they'll even find a new favorite animal by listening to The Animal Alphabet!
Shop https://bsyl.ink/TheAnimalAlphabet. in our store!
Horses And Ponies
We bet you know at least one child who loves horses and ponies! This is the perfect eBook for them! This short story lets kids see what it's like for a horse to grow up from a foal into a full-grown adult. They'll get to learn about different ways we enjoy horses such as jumping, ranching, and simply loving as pets. Horses and Ponies includes illustrations of adorable and beautiful equines that will keep any horse lover entertained. Children can follow along word-for-word as they learn more about horses and ponies. They'll want to re-read it again and again!
Shop Horses and Ponies in our store!
Down On The Farm
Sticking to our theme of farm animals, we have Down on The Farm! This adorable short story is great for teaching early readers about the livestock that live on farms across the country. With authentic sound effects and lively music, kids will learn interesting facts about pigs, chickens, ducks, horses, cows, goats, turkeys and sheep! Did you know that pigs can eat up to 8 hours a day? No wonder they can weigh up to fourteen hundred pounds! Adorable photographs and simple text will help animal enthusiasts learn about farm animals. With this perfect combination of education and entertainment, kids and parents alike will read and enjoy "Down On The Farm" over and over again!
Shop Down On The Farm in our store!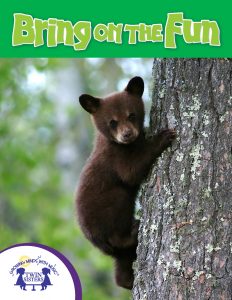 Bring On The Fun
Bring On The Fun is a 20-page book that teaches children about a variety of baby animals! With authentic sound effects and lively music, kids will learn interesting facts about puppies, kittens, monkeys, raccoons, alpacas, chicks, polar bears, and fawns. The book comes with stunning photographs of all the baby animals discussed so that your child can become familiar with new species. This eBook is suitable for children ages 4 to 9. Anyone who loves animals (especially adorable baby animals) will love Bring On The Fun! There are tons of fun facts about wildlife that will get your child more interested in science, the world, and learning! Did you know that the bigger a puppy's paw size, the larger it will grow? Or that there are more than one hundred fifty breeds of dogs? Beautiful photographs and simple text will help animal enthusiasts learn about baby animals.
Shop Bring On The Fun in our store!
The Lost Kitten
Fun sound-effects and whimsical music help tell the adorable tale of The Lost Kitten. Find out what happens when Jodi finds a scared, lost kitten on her way to the market. Will she be able to find the little kitten's owner? How should Jodi take care of the kitten in the meantime? Children will learn the responsibilities that come with pet ownership as well as why it's important to care for animals. Your animal lover will want to read the story over and over again! The illustrations in the story match perfectly with the plot, helping even the youngest reader understand what is going on. A positive ending adds interest to this endearing story and encourages a lifelong love for pets.
Shop The Lost Kitten in our store!
As we said, this is only a small sample of the animal-based stories offered by Twin Sisters Digital Media. We offer eBooks, activity books, music, and more about all the topics your kids love. Our products are designed to promote early reading and literacy skills to prepare kids for success in school. To browse the entire selection, check out www.twinsisters.com. We hope to see you there soon!